What are the traditional Roman dishes that you should try during a typical dinner in Rome? 
If you are a foodie who travels motivated by the desire to get to know a place through the discovery of the culinary traditions of a country or if you simply want to taste the authentic typical local Roman food, there are some dishes that you cannot miss.
Starting from one of the typical foods of Roman street food: the supplì, a delicious food based on rice, tomato sauce and mozzarella. In Rome, the real supplì is called "on the phone", so called because by breaking it in half with your hands, you can see (and taste) a stringy heart of mozzarella that unites the two parts.
Find out here the difference between Roman supplì and Sicilian arancino!
Among the other dishes that you absolutely must try are the classic first courses of the Roman tradition: carbonara, cacio e pepe and amatriciana.
Carbonara is the most loved recipe in the Roman cuisine and is made up of a sauce based on egg and pecorino romano and a large amount of guanciale (cured pork cheek). The sauce must be creamy and the guanciale crispy.
Cacio e pepe, on the other hand, is a simpler but equally tasty first course that you must try if you like simpler dishes and strong flavors at the same time. The sauce is made with pecorino romano and toasted black pepper and has a delicious creamy texture.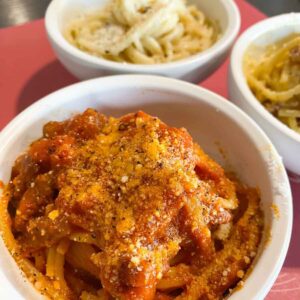 Finally, amatriciana is a dish that you must taste during a typical Roman dinner since it is an ancient recipe, of peasant origins and typical of Amatrice, a village near Rome where the typical guanciale used for this dish is produced. This first course is based on tomato sauce, pecorino romano and crispy guanciale.
Best typical dinner in Rome: Insideat's proposal!
If you want to try more typical local foods, with Insideat you have the opportunity to enjoy a typical dinner in Rome and try more traditional cuisine.
Our Roman dinner begins with a crunchy supplì al telefono (stringy rice ball) and a panzerotto filled with fresh buffalo milk ricotta that you can eat while sipping a drink of your choice. We advise you to try one of excellent local wines.
After the appetizer you can enjoy 3 samples of traditional first courses: the delicious carbonara, the creamy cacio e pepe and the succulent amatriciana.
Furthermore, a typical Italian meal always ends with a dessert: our dinner in fact includes an excellent homemade gelato and, optionally, the famous espresso coffee or a limoncello.
Eating in Rome with Insideat is a real treat. You will enjoy a typical Roman dinner in a truly Italian restaurant, a short distance from the Vatican Museums.
In fact, dinner takes place at PummaRe, one of our partners and one of the restaurants in Rome for dinner located in the Prati district, reachable by Metro A (Ottaviano or Cipro station).
Book the best dinner in Rome and enjoy the moment with Insideat!