Live the best pizza class and wine tasting in Rome!
Far from a simple cooking class, but a source of creative ideas! During our pizza class you'll learn to prepare the authentic Italian pizza from scratch, tasting three different local wines (sparkling, white and red)!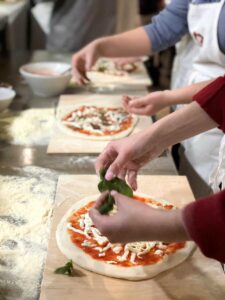 Our pizza class includes a small tour of the lively and colourful Trionfale Food Market, a few steps from the Vatican. Walking through the local delicacies, you'll taste the typical Roman pizza paired with a local wine!
After the tour, you'll be welcome into the PummaRerestaurant: here, thanks to the chef, the guests will learn how to prepare authentic Neapolitan pizza, how to season it according to their taste and how to cook it in a wooden burning oven!
After the cooking class, you'll relax in our cozy restaurant (or in the outdoor terrace!) to enjoy the fruits of your labor! You'll join the social table, sip wine with your new friends, taking the opportunity to ask our chef tips and tricks about italian food & wine world!