Experience on of our fun food & wine team building events Rome!
The greatest challenge of a good leader is to unite their team, to ensure that all the energies are directed towards the achievement of company objectives.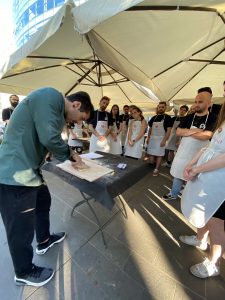 Cohesion, sharing, complicity but also healthy competition are essential for a group to work in the best possible way and bring out the skills of each individual member.
Insideat's food & wine team building events Rome are created to test the whole team in a different environment and to bring out creativity, team spirit, problem solving skills and leadership attitude of each of them.
Smaller groups will be formed and they will take part in food & wine themed quizzes, cooking challenges, wine tastings, preparation of typical Italian dishes. These are only some of the tailor-made activities offered by Insideat.
But it doesn't end here, because after the competition comes the moment of sharing, thanks to the tasting of the dishes prepared and finally the long-awaited award ceremony.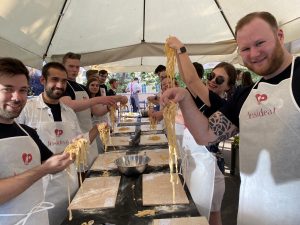 Only one group will win the prize, but everyone will be the winner, having found their complicity thanks to a few hours of fun and serenity.
Contact us to create together an ad hoc food & wine team building event.