Make real Italian gelato and fresh pasta with our cooking class in Rome!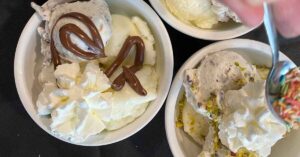 By choosing the experience gelato & fettuccine making class in Rome you will take part in the preparation of an authentic Italian gelato. Together with the Chef you will prepare two different flavors and you will help him in the selection of the ingredients. You'll follow step by step the creation of the most famous Italian dessert!
The Chef will show you how to make the different flavors, the fruity and the creamy ones, using the ice cream machine and will explain the difference between gelato and ice-cream.
While gelato is being prepared, you will be involved in the making of another iconic recipe of Italian cuisine: fettuccine, a format of fresh pasta much loved by Italians. You will then learn how to make this traditional homemade pasta, following the Chef's advice, so that you can make it yourself whenever you feel like it. The Chef will then cook your fettuccine and cover them with a typical local sauce.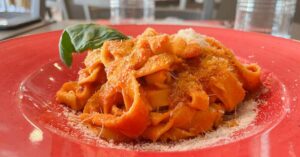 At the end comes the most relaxing moment in which you will be able to enjoy the fruits of your labor while enjoying a classic Italian meal comfortably seated at the table. You will sip a good glass of wine and eat an excellent plate of pasta and a delicious gelato.
Our cooking lesson is a gourmet experience, as it consists of an immersion in the culinary tradition of the Belpaese through the creation of two of the most beloved and consumed products by Italians.
Join our gelato and fettuccine lesson in Rome for a mouth-watering Italian experience!
Why choose the gelato and fettuccine making class in Rome: 
It is a fun and unforgettable experience

It's perfect if you want to learn how to make Italian gelato and fresh pasta with your own hands

It's ideal if you want to learn how to cook like a true Italian

You have a chef at your disposal for the entire duration of the experience

It is available for small and large groups

It is suitable for children

The cooking class takes place in the center of Rome
Gelato and fettuccine making class in Rome includes: 
Cooking lesson with the Chef

Menu including: bruschetta, fettuccine with a sauce of your choice, gelato in two flavours, 1 drink, cappuccino or coffee + homemade biscuits
Live, taste, enjoy your gelato and fettuccine making class in Rome! 
If you want to learn how to cook other typical Italian recipes, discover Insideat's cooking lessons in Rome here!