Make home-cooked dishes in Taormina, spending a day with an authentic Sicilian family!
Go to the discovery of Sicilian food and wine in a cooking lesson with Melina and her family!
Mrs. Melina will welcome you in her home to guide you in the preparation of the best dishes of the Sicilian tradition spending a few hours of fun and good food.
In this Sicilian cooking lesson, you can choose between two different types of menus: a shorter one, lasting one hour and a half and a more complex one, lasting three and a half hours. Don't worry, cannoli will be on both menus!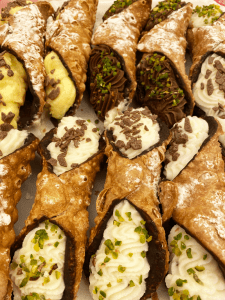 At the end of the lesson you will enjoy a lunch full of typical dishes and good local wine, during which you will get to know this warm family, who will make you live an authentic Sicilian experience.
Which is the context of the cooking class? The Sicilian hinterland, very close to the characteristic town of Taormina!
Enjoy Sicily, with home cooking in Taormina! 
The lesson on home cooking in Taormina includes:
Sicilian cooking lesson and preparation of typical local specialties

Lunch with the dishes prepared with your own hands, accompanied by local wine

A day in the company of a warm Sicilian family
Why choose home cooking in Taormina:
It is perfect if you want to learn how to make Sicilian recipes

It's fun because it involves you personally in the preparation of typical specialties

It is authentic because it introduce you into the culture of this land

It is ideal if you want to have a total cultural experience with the locals.
If you like sicilian flavours and you want to discover the characteristic Taormina, you might be interested in Taormina food tour  or in The good and the beautiful of Taormina food tour.