Prepare traditional dishes together with a warm Sicilian family
Discovering the real Sicilian cuisine with Melina and her family! 
Mrs. Melina will welcome you in her home to guide you in the preparation of the best dishes of the Sicilian tradition spending a few hours of fun and good food.
You'll choose between two different types of menus: a shorter one, lasting one hour and a half and a more complex one, lasting three and a half hours. Don't worry, cannoli will be on both menus!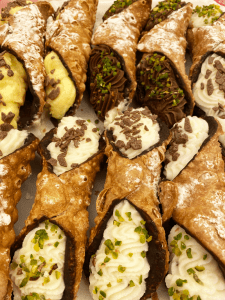 At the end of the lesson you will enjoy a lunch full of typical dishes and good local wine. You will get to know this warm family, who will make you live an authentic Sicilian experience.
The context? That of the Sicilian hinterland, near the characteristic Taormina!
Enjoy us, in Sicily!
* The minimum number of participants is 4 people.
Children up to 6 years of age participate for free.