Our one-hour pizza class is the perfect food experience that summarize the whole tradition of Italian Pizza Masters.
You will learn how to prepare the authentic Italian Pizza from scratch, with the help of a local pizza chef.
In our cozy cooking lab near the Vatican, you'll be greeted by our bartender with a bubbly italian drink and a tomato and basil bruschetta, a typical roman street food.
Now it's your turn to make & eat your own inimitable Neapolitan Pizza in a burning wood oven.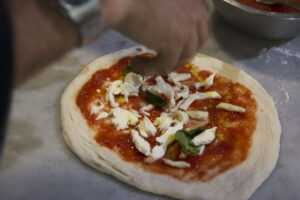 Choose the topping you like the most!
Once your food experience is finished, get pampered in our cozy restaurant or on the outdoor terrace to enjoy the fruits of your labor.
Join our social table, enjoy the roman wine with your new friends and ask your chef about the tips and tricks of the Italian Food in one of the best spot to be in the Eternal City.