Discover the best cooking class on pasta, ravioli and tiramisu in Rome!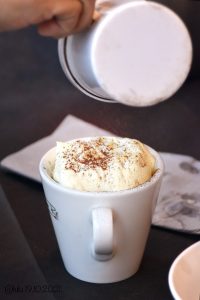 Our Pasta, Ravioli & Tiramisu Class is the ideal cooking lesson to learn how to make three typical dishes of Italian cuisine.
After a welcome drink, the experience will begin with the preparation of the Italian dessert par excellence: tiramisu. You will prepare your own tiramisu and decorate it to your liking.
Later you will learn how to make the classic homemade fresh pasta and the typical Italian stuffed ravioli with your own hands. In this preparation phase, the Chef will show you all the steps and will reveal the secrets for the perfect pasta, like that of Italian grandmothers.

At the end of the cooking class, you can enjoy first courses with your fellow adventurers, seasoned with the best sauces of the Roman tradition, and tiramisu, comfortably seated at the table.
Our Chef will be at your complete disposal, from the beginning to the end of the cooking class, to tell you the stories and recipes of the Italian tradition during the pasta, ravioli & tiramisu class.
Our cooking class in Rome is a memorable food and wine experience that allows you to immerse yourself in traditional Roman cuisine.
Join the best cooking class in Rome to spend a few hours of fun and taste together with Insideat!
Why choose Insideat's pasta, ravioli and tiramisu class
It is a fun and unforgettable experience;

It is ideal if you want to make typical Italian recipes;

It's perfect if you want to eat like a real Italian;

You have a Chef at your disposal for the whole experience;

It is suitable for small and large groups;

It is suitable for children;

The cooking class takes place in the center of Rome;

At the end of the experience, you will take a "good" memory of Italian cuisine with you.
The pasta, ravioli and tiramisu class includes: 
Welcome drink with homemade drinks and

cacio e pepe

chips (cheese and black pepper)

Italian cooking lesson with the Chef

1 bruschetta, 2 first courses, 1 dessert and 1 drink
Live, taste, enjoy your Pasta, ravioli & tiramisù class!
If you want to learn how to make other typical recipes of Italian cuisine, discover other Insideat cooking classes here!