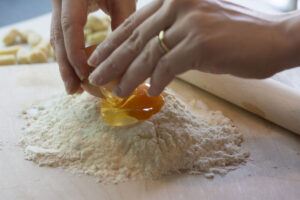 Insideat's one-hour pasta cooking class is the perfect food experience that summarize the whole tradition of italian fresh handmade pasta.
In our cozy cooking lab near the Vatican, you'll be greeted by our bartender with a bubbly italian drink and a tomato and basil bruschetta.
Make & eat, with the help of our unique roman chef, your fresh home-made pasta starting from flour and eggs.
You and the Chef will prepare some of the greatest classical italian pasta: Fettuccine, Maltagliati, Tagliatelle, Pappardelle and many more.
The pasta will be seasoned with the best Roman sauce, passing from the classic tomato and basil, to a tasty carbonara.
Once your food experience is finished, get pampered in our cozy restaurant or on the outdoor terrace to enjoy the fruits of your labor.
Join our social table, taste a glass of roman wine with your new friends and ask your chef about the tips and tricks of Italian Food in one of the best spot to be in the Eternal City.
The experience is available also for small groups!