Discover the best food tour in the center of Rome!
Experience available for a group of minimum three people
Immerse yourself in the most beautiful streets of Rome, lose yourself in the alleys, in the scents, in all the stories linked to Trastevere, one of the most evocative areas of the Eternal City! We strongly believe that food is a balm for your soul, for this reason, the tour will be dedicated to taste and tradition! Of course our walk will start eating the fragrant and thin roman pizza, artfully prepared by an antique bakery in the heart of the city.
The guide that  will be with you during the tour to discover the typical streets, the hidden corners and delicious food, will guide you to Trilussa Square where you'll taste the famous and stingy "supplì al telefono".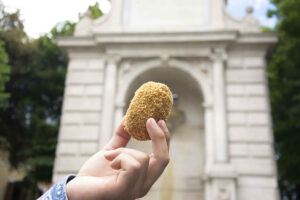 You will cross the Tiber, among poetry and quotes from ancient poets, to taste a selection of cold meats and cheese.
Everybody knows that after the salty always comes the sweet, which in this case couldn't not be a delicious handcrafted ice cream in one of the best ice cream parlors in Rome, perfect for the grand finale!