Eating pizza in Rome: places to try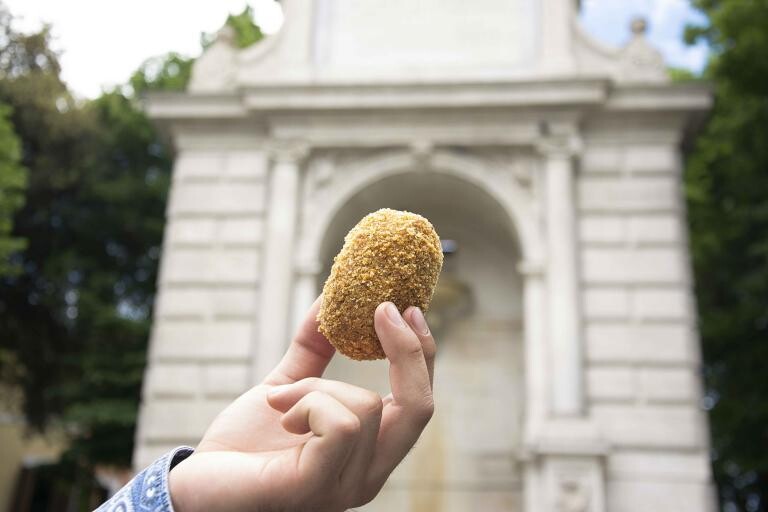 Crunchy, thin but above all heavenly greasy: these are the must-have characteristics of Roman pizza. In particular, we refer to the sliced ​​one, the one you suddenly find while walking, the one you order at the counter and of which you can choose as many flavours as you want in the quantities you prefer.
The pizza by the slice in Rome is a religion and together with the supplì it is the street food of excellence to please everyone, adults and children, vegetarians and non-vegetarians. It is good for breakfast, for a snack or to be consumed for lunch or dinner (yes, we said breakfast, ask a Roman doc how good is the greasy white pizza, freshly baked). It adapts to any time and situation, you can eat anywhere: on the street while walking or climbing on the very high stools that characterize these colourful pizzerias. Time has transformed this product into a real gastronomic reference point, a food that identifies the city. Each neighbourhood has its own pizzeria of reference, each Roman chooses which one will be his favourite pizzeria to pass on to his children and grandchildren.
However, we can still recommend some places that are worth trying.
For some years now, pizza by the slice has begun to have the spotlight on it, a true Capitoline celebrity who has also landed on TV. The pizza chefs have become real dough masters who work and study rising times, choose high quality and high yield raw materials and search for the best flours for the various types of dough.
But coming to us, let's see where we can go to eat a "super" Roman slice pizza.
The first one we suggest is located a step away from San Pietro, easily reachable thanks to the Cipro metro stop. We are talking about Pizzarium Bonci, where the dough is exceptional and the leavening is perfect. Bonci with its ever-changing doughs and absurd combinations of raw materials has made this historic place a pilgrimage destination for pizza lovers.
We continue moving towards a more central area, we are right behind Campo de 'Fiori: Antico Forno Roscioli.
Guys what to say, if you have never tried their marinara pizza you must definitely fix it. Thin dough, greased to the right point, sprinkled with tomato sauce that explodes with every single bite. The exaltation of simplicity. The best time to eat it? The 11 am snack!
Let's move a little towards Piazza Re di Roma. The magical place is called, La Casa del Supplì, since 1979 the undisputed reference point for pizza by the slice in the Appio-Latino district. Here the queen is La Margherita, crunchy and well seasoned the consistency is perfect.
Another pizza not to be missed is located in Via Nomentana is a precursor of the Roman pizza by the slice new wave. Angelo & Simonetta has an out of the ordinary dough, high hydration and long maturation. Toppings ranging from the classics up to some more elaborate.
Now instead, we are in the Centocelle district, already renowned for places like the Veneziano or Legs.
Enjoys a hidden pearl: Pommidoro. A pizzeria that stands out thanks to the high-quality products it offers. The crust is slightly higher than the classic thin Roman, but what is striking is its alveolation, which makes this product soft but crunchy at the right point. Keep an eye on the condiments, they change according to the season.
White, red or with unconventional ingredients, pizza by the slice is still something sacred in Rome. It must be respected, understood and above all: EATEN. GOD BLESS PIZZA
If you want to prepare the real italian pizza, join our one hour pizza making class in Rome.