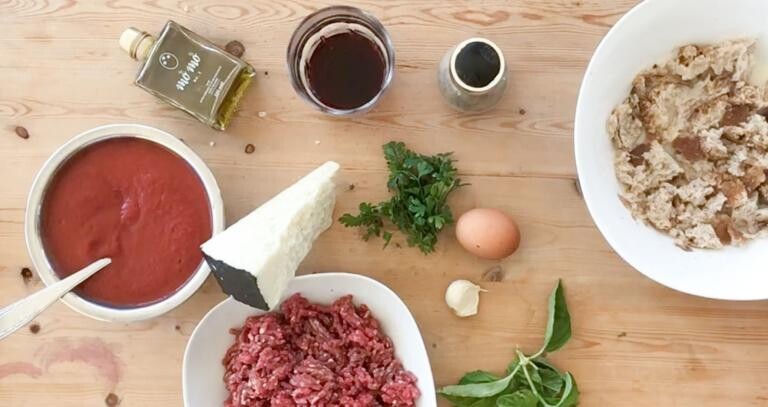 2/3 servings 
0.6 pounds of medium fat ground beef
1 Egg
½ Glove of fresh garlic
Fresh parsley (Or your preferred herb) to taste
Black pepper to taste 
3 Tbsps Parmesan or Romano cheese
3 slices of old sourdough bread
1 ½ Cups of milk
2 ½ cups of Tomato paste 
3 tbsp Olive oil
½ glass of Red wine
5 Basil leaves 
½ Glove of garlic 
Salt and pepper to taste
1 Tbsp Parmesan cheese to garnish
Difficulty: Easy
Preparation: 25/30min
Servings: 2 
Note: The ground beef can be mixed with 1 sausage to make it a bit more juicy 🙂
You can serve the meatballs with toasted bread or pasta.
MEATBALLS WITH TOMATO SAUCE
Meatballs is the amarcord recipe par excellence. Everyone likes it, from kids to elders.
Meatballs are the ancestors of hamburgers, they have been for a long period of time a very poor recipe. The working class used the leftovers of the more precious cuts of beef, mixing herbs and old bread to enhance tastes and flavours.
There are many different versions of it: 
fried without tomato, cooked into the tomato sauce, mixed with different cheeses and meats etc…
Now guys, I don't want to break all your beliefs but the only non original Italian version is the Spaghetti with meatballs.
I know, you are now thinking about Lady and the Tramp, all the Sopranos episodes as well as some Hollywood masterpieces like the Godfather or Goodfellas.
Well, sometimes movies can change the perception of reality!
The Italian tend to divide the meal in different parts:
antipasto – primo – secondo – contorno – dolce – caffè – liquore
( not every day of course ).
After the mass migration of Italians towards the USA, at the end of the Second World War, the two cultures started to be mixed. The Italo-American food culture is the result of years of integration, so it is 100% Italian as well as 100% American.
Cook the garlic in 3 tbsp of olive oil for a minute. The garlic has to be gold in color
Add the tomato sauce, the basil leaves, salt and pepper
Cook on medium heat for 5 minutes untill bubbling 
Right before adding the meatballs pour half a glass of water and half a glass of wine into it.
Soak the old bread into the milk until soft
Finely cut half glove of garlic with the parsley 
In a bowl mix and squeeze the ground beef, the parsley and garlic mixture, 1 egg, salt and pepper to taste.
Squeeze the milk out of the bread, crumble it with your hand and add it to the beef.
Add 3 tbsps of dried aged cheese ( Parmesan or Romano cheese )
Mix well and start to make your meatballs 
The size of your meatballs has to be like a golf ball. Well compacted and round (around 12 balls)
Immerse your meatballs into your hot tomato sauce. The balls have to be ¾ under the sauce.
Cover the pan, cook it for 15/20 min medium heat, don't move the meatballs, otherwise they will break 
Uncover the pan turn the meatballs upside down and let it cook for another 5 minutes 
Garnish it with 1 tbsp of Parmesan on top
 
Buon appetito!