There is a place in Rome just outside the most known tourist routes, a neighborhood where originally stood up an ancient medieval fortress built by the Savelli family: the Aventine.  One of the most enchanting places of the Eternal City and the favorite destinations of painters and photographers. The best place to enjoy a suggestive panorama.
Take your camera and dress on your most comfortable shoes!
Today we are going to discover this path that starts from Clivo di Rocca Savella to one of seven Roman hills.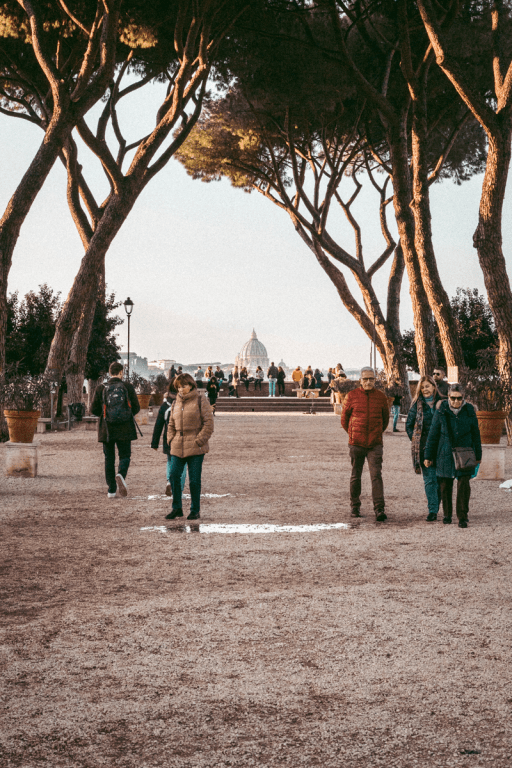 Going uphill and turning along your path, you will see the ancient Roman palaces and spot the domes in the background.  
Continuing along this walk, on the right you will find the Savelli Park, known as the Orange Garden.
It is an orange grove, which originally was the vegetable garden of the Dominican Friars. Now converted into a public green space, from which you can admire a splendid view of the city from a unique angle. 
Crossing the main avenue of this garden, dedicated to Nino Manfredi, one of the greatest Italian actors, directors, screenwriters and comedians, you will reach the belvedere, the terrace overlooking Rome. Take a deep breath and admire the most beautiful monuments of the city  .
A moment of magic and ecstasy to enjoy until the last second.  A place where words are superfluous and the sound of silence is all.
But that's not all folks, everything around you smells of history, from the basilicas to the ancient Jewish cemetery on which the municipal rose garden stands today. Places that worth a visit if you have come this far.
A little further on, Insideat leads you to discover one of the most beautiful views of the city: the famous Keyhole ( the gate of the Priory of the Knights of Malta) from which you can "spy" and admire the dome of St. Peter's Basilica. The view is framed by the green edges of the luxuriant garden.  
A singular perspective to enjoy a suggestive view, which we advise you to experience at the sunset.
The perfect season?  Spring or summer, when the sunset redraws and colors the city panorama.
 With Insideat we want you to discover not only Roman food and wine, but also places, people and cultures.
Dear Insideaters, for today you can rest your eyes and legs but be ready for our next appointment. 
Discover with us the hidden streets and the most evocative places of the Eternal City.