The authentic recipe of ragù alla bolognese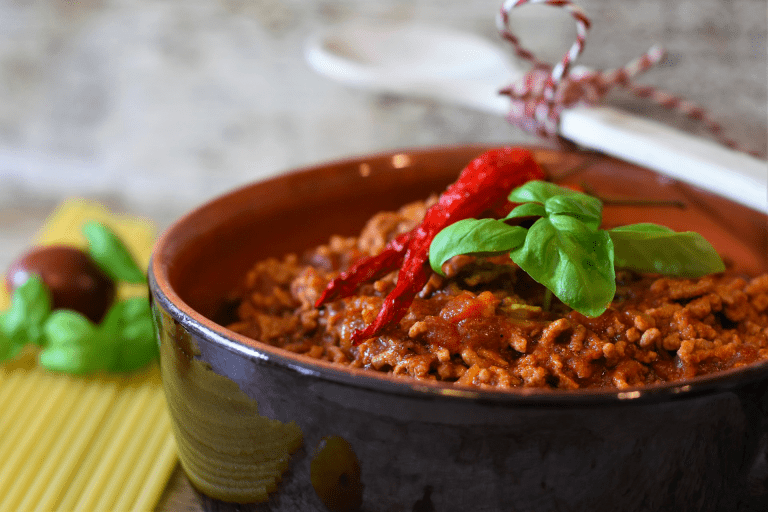 Difficulty: Medium
Preparation: 15/20'
Cooking: 1.5/2h
Servings: 3/4
Note:
Use a good selection of ingredients, especially the meat and the tomato.
The sauce is well known to be used for Lasagna but you can serve it with fettuccine or simply with a nice slice of sourdough bread.
Ingredients for ragù alla bolognese
¾ pound ground beef 30% fat
½ pound dry-aged pancetta (pork belly)
2 Carrots
2 Celery stalks
1 Big onion
30 ounce plain peeled tomato
2tbs tomato paste
½ Glass of red wine
½ Cup of milk
Salt and pepper to taste
3tbs Olive oil
Ragù alla bolognese story
Ragù alla bolognese is one of the best known Italian recipes. The plate has spread around the globe thanks to the Italian emigrants, who brought with them the flavors of their country.
Cultures melt and blend in so many ways, creating  countless variations of the recipe, based on the ingredients they could find.
But where does Ragù come from?
Food historians traces the term from the French equivalent "Ragout" that stand for a vegetables and meat stew cooked for many hours.
The versatility of this original recipe allowed lots of different adaptation, based on the availabilities, making this recipe accessible for the poorest, using meat left-overs, or for the richest with more precious cut.
The real game changer for the recipe was the introduction of the tomato sauce in the Italian cuisine only during the twentieth century. From that moment the recipe didn't change very much to the point that, in the 1982, the Bologna Chamber of Commerce by the Bolognese Delegation of the Italian Academy of Cuisine, registered the original recipe in an official document. The beauty and the peculiarity of the Italian relation with the food at his best!
Discover the history and the recipes about italian dishes here!
How to do: Ragù alla bolognese
Mid-flame. Cook the diced aged bacon into a big pot. 5'
Add the vegetables finely cut 5'
Add the minced meat and mix 5'
High-flame. Pour in wine and stir gently until evaporated. 2'
Add peeled tomato and paste.
Adjust salt and pepper.
Cook the sauce mid-low flame for 1.5h covered.
Check the sauce every 30' to make sure it is not burning. The sauce has to reduce to the half
Add milk and let it cook semi covered. 30'
The sauce will result thick and intense red.
Buon appetito Insideaters!
Subscribe to our YouTube Channel to prepare italian recipes with the advice of our Chefs.