Rome is known all over the world not only for its millennial beauty but also for the good vibes, the sympathy of its inhabitants, and for its gastronomic delicacies.
The capital, in fact, is also famous for many colorful local markets. The perfect place to shop, buy antiques, souvenirs, or vintage objects.
Are you ready to walk around the most beautiful markets in Rome with us?
If you visit Rome, you should definitely see Piazza Campo de 'Fiori. Cheerful, suggestive but a bit "touristy".
The square is surrounded by splendid neoclassical buildings and animated every morning by the market. Here you can find souvenirs and delicacies of all kinds: T-shirts, liqueurs, flowers, exotic fruit, fresh vegetables and dairy products. Probably not the best place to buy food but 100% a must-see place. Get lost in the chaos to find yourself inebriated with perfumes, flavors and history.
Campo de 'Fiori square, Rome
Opening hours: Monday to Saturday, from 7.30 to 14
Porta Portese … what more will you have? Baglioni sang in his old song. Well yes: Porta Portese is in the heart of every Roman.
Its largest flea market, a maze of stalls where you can really find EVERYTHING. Souvenirs, antiques, vintage clothes, caviar, car radios, bicycles, gramophones, furniture … all at very affordable prices. The perfect place to feel like an authentic Capitoline, and to do a great deal.
Piazza di Porta Portese, Rome
Opening hours: Sunday from 6 am to 3pm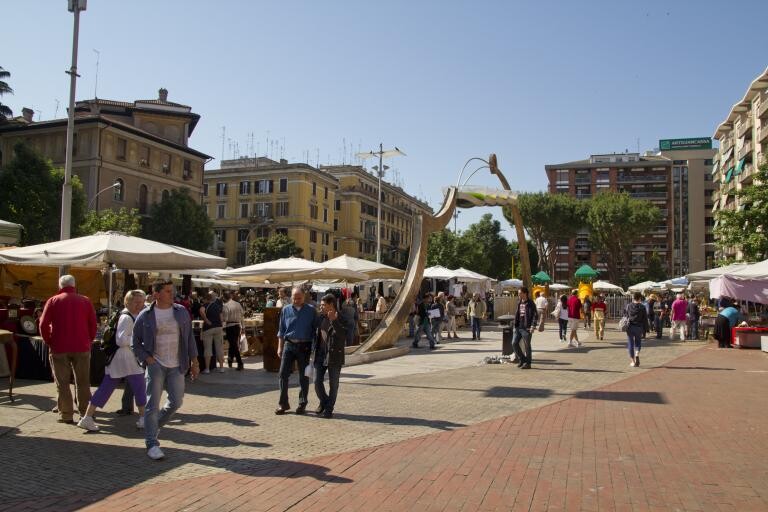 In the splendid square of Largo della Fontanella Borghese, the Print Market is a little gem for all fans of graphic antiquities, serigraphs, lithographs, and antique prints. Old school stalls with extremely rare books, magazines, comics, newspapers, and maps. A place of culture and art, where it is not difficult to find very good painters intent on painting glimpses and passersby.
Largo della Fontanella di Borghese, Rome
Opening hours: Every day from 7 to 13
The most typical of the Roman markets: here it is possible to make a real food and wine immersion in the Capitoline and Lazio tradition, in a decentralized position that makes it the favorite destination of the Romans. On its colorful stalls, delicious products stand out. All market is full of food stalls where to buy some delicious express made plate!
On the outdoor tables, you can just relax, have lunch, nd taste excellent Lazio wines.
Via Beniamino Franklin, Rome
Opening hours: Monday to Saturday from 7 to 15
Very close to the Circo Massimo, there is the farmers' market of "Campagna Amica", the most important market of Lazio farm to table products (Coldiretti association).
Open only during the weekend, it gathers the farmers of the area who offer their products in a convivial and relaxed atmosphere. Farm to table products, handmade bread at affordable prices. You can buy your fresh ingredients and have a nice lunch on the benches of the internal courtyard.
Via di S. Teodoro, 74, Rome
Opening hours: Saturday and Sunday from 8 to 15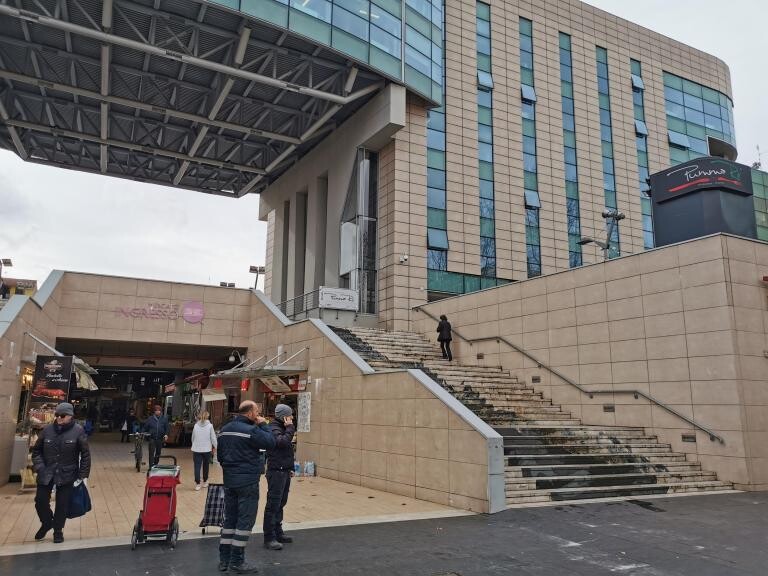 Just behind the Vatican Museums, in Via Andrea Doria, the Triumphal Market is a riot of fresh and genuine products. 100% Local! It is held in the morning and, on its stalls, it is possible to find Roman products, cheeses, and cold cuts, freshly tapped wines, gourmet meats, flowers, and fruit. It is a place to which we at Insideat are particularly dear to us… Perfect for anyone who wants to get to know all the goodness of the Roman and Lazio gastronomic tradition!
Via Andrea Doria 41
Opening hours: Monday to Saturday from 7 to 14