We love Christmas for the magical atmosphere that you breathe, the lights that illuminate the streets and fill the houses, the trees surrounded by gifts and the tables with good food.
Italy is famous for its excellent traditional cuisine, but during the holiday season, Italian grandmothers and mothers get busy preparing the famous Christmas recipes.
But what can't be missed on the Roman table at Christmas? We will reveal it to you!
In the Roman tradition, Christmas Eve is dedicated to the preparation of fish, while Christmas lunch is considered the meat day!
Every self-respecting Christmas lunch starts with appetizers, in this case with stracciatella. No, we are not talking about the typical Apulian cheese, but about a meat broth in which the eggs are beaten and seasoned with salt, pepper, parmesan, nutmeg and lemon zest.
As an alternative to this delicacy, the Romans love to start their lunch with a simple, but tasty meat broth.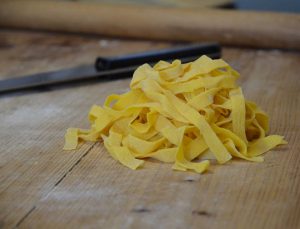 Pasta of course is always present, usually ravioli or fettuccine. If you want to surprise everyone by preparing it from scratch, as tradition says, join our cooking class here. You will learn how to make tiramisu too!
Pasta can be seasoned with a good homemade meat sauce (See the recipe for the real Bolognese sauce here).
Alternatively, we recommend a good timbale or cannelloni with a ricotta and spinach filling!
And now here they are, the unmissable fried lamb chops (or baked for those who prefer to stay lighter).

Then comes coratella, the name used to indicate the entrails of small animals such as rabbit, chicken or lamb, to be accompanied with the inevitable Roman side dishes: the artichoke alla romana (Discover more here!) and chicory with anchovy sauce.
To make this day even sweeter, Roman people make various desserts: pangiallo,panpepato, nocchiate and nociate.
The pangiallo is a mixture of the two lemons zest and two oranges, pine nuts, almonds and raisins. It is an excellent alternative to the classic panettone.
Nocchiate are crunchy balls made with hazelnuts.
If you want an alternative to the classic nougat, however, nociate is what you need: a mix of honey and walnuts.
Now you have a selection of what cannot be missing on the Roman table at Christmas.
Dear Insideaters, we wish you a wonderful Christmas full of love, joy and a lot of good food!If you are the classic latecomers and want to give original gifts, choose one of our experiences on the delicious world of food and wine here. We are waiting for you!