How many times passing in front of an artisan shop do we stop to admire the beautiful exhibits? Whether they are antique rings, bags, or vases. We remain enchanted by asking ourselves how a man can achieve such wonders with the art of his hands.
Have you ever wondered how this ancient art has evolved over the years?
Starting from the origins, the word craftsman derives from the Latin "ars" which means "practical or technical method". In the Middle Ages, the craftsman was a very important figure because he was considered a person who excelled in his profession. Over the years the concept of craftsmanship changed and took an old-style vibe.
In Italy, this art was handed down from generation to generation, with fathers who left their shops and their ability to create unique objects to their children.
Today, according to the law, artisans are no longer recognized as artists, but as entrepreneurs.
But is it really so? Or are there still those shops where you can breathe history, art, and beauty?
Let's take a look at 5 historic shops in Rome, where true craftsmanship can still be found today.
The atelier, located in Vicolo de 'Cinque, 49 in Trastevere, has been creating – strictly by hand – handmade leather creations since 1989. Each product is made with leather from Tuscany. Managed by Davide Rossi, today the shop has expanded by opening two other stores one in via Appia Nuova, 187 and the other in San Giovanni in via Pinerolo 31.
The opening hours: 11:00 a.m. to 19:30 p.m. from Monday to Saturday.
.
In via del Moro 59, in the heart of Trastevere, in Adrian Rodriguez Cozzani's workshop, time stands still. The Argentine, born in 1948, is the last sand clock manufacturer, who arrived in Rome in 1977 to escape the dictatorship. According to Adrian, the hourglass is the perfect synthesis between art, craftsmanship, and philosophy. In his shop, you can find sand clocks of all kinds and sizes. It worth the stop just even spend some minutes talking with Adrian. You will not regret it!
The opening hours are from 10:00 to 20:00 from Monday to Saturday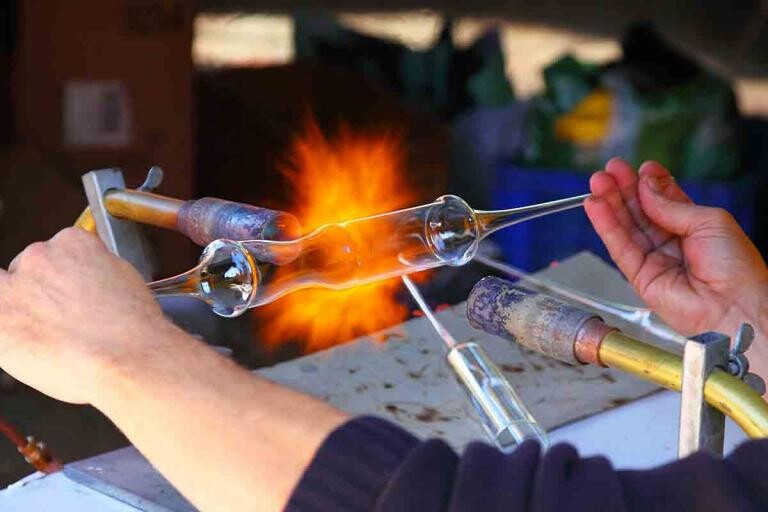 In this tiny laboratory, located in Vicolo dè Cinque, 13, in the heart of Trastevere, there are objects in ceramic, glass, papier-mâché, wood, and fabrics.
The owner, Anna, is an artist with a curious training path: trained at the Academy of Fine Arts, she has enriched her knowledge by attending a specialization course in Murano on the art of glass where she learned the glass fusion techniques.
Flake's Design & Arredo Trastevere
In via della Scala 45, Flake's Design & Furniture is a showroom completely dedicated to the world of craftsmanship. In this shop, you can find both teak furniture and wood, clay and terracotta object 100% handmade.