Everyone knows Rome, everyone knows its history and admired its beauty, but not many know that outside the capital, just over half an hour by car, there is an older city: Tivoli.
Let's start with a bit of history.
The citizens of Tivoli have been always so proud of this: Rome was born in 721 BC, Tivoli in 1215 BC (494 years earlier!).
At the time known with the name of Tibur, a small city that never bowed to the Empire. Following several clashes with the empire from which the city resisted, it was declared an "immune" city,
In addition to the strength of its fighters, this resistance was above all due to on its strategic position, atop a well-protected hill.
It was a commercial hub, the direct supplier of travertine and the favourite area of ​​the emperors for their residences. Tivoli still preserves small jewels that span different eras.
To name just a few:
The temple della Tosse
The Temple of Hercules Victor
The temple of Vesta
The amphitheatre of Bleso
Villa Gregoriana (FAI Heritage)
Hadrian's Villa (UNESCO World Heritage)
Villa D'Este (UNESCO World Heritage Site)
The last three are the best known and most admired worldwide.
In 2019 they have over 700 thousand people visiting.
Curiosity! Tivoli shares a particular record with Beijing: two sites on the list of world heritage elected by Unesco, the UN organization for the protection and promotion of culture, science and education.
(Rome has just "one" site.
The all old city of Rome is a Unesco heritage )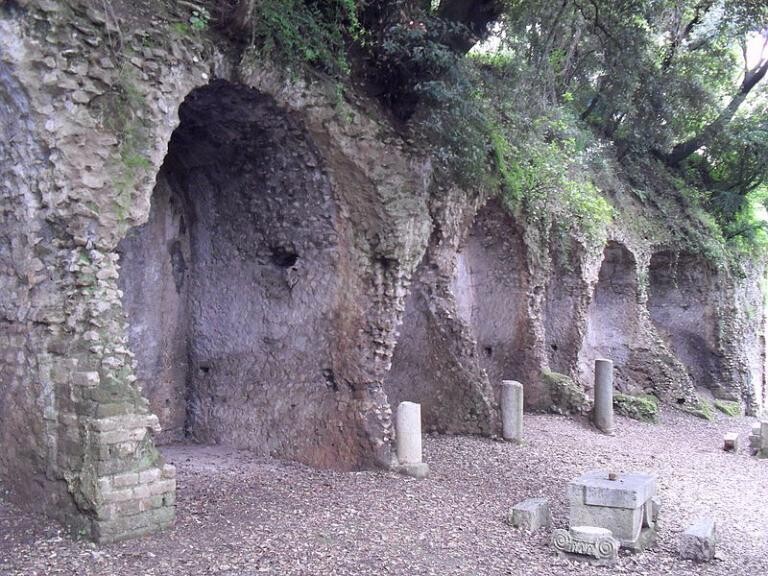 It is located in a very steep valley, once known as "the valley of hell".
The perfect union between nature and art, Villa Gregoriana was born from a great engineering project commissioned in 1832 by Pope Gregory XVI to stop the continuous flooding of the Aniene river.
Today, we are breathless in front of the majestic Great Waterfall, 120 meters high, second in Italy only to the Marmore Falls.
Over time the villa has hosted painters, writers and many other artists who have walked through its paths, admiring the waterfalls and finding refreshment in the cool of nature.
The visit is a journey through steep paths and nature to discover more than 70 different tree species.
Keep walking to arrive at the Cascata delle Sirene, a place full of legends that leads to the Cave of Neptune.
The visit concludes with the grand finale: the Temple of Vesta.
In short: if you love itineraries that are out of the beaten path, Villa Gregoriana is the perfect place for you!